In the introduction to prayer article, I described the Scriptural concept of prayer. I then also  discussed the reasons and outcomes of prayer. This article will focus a bit more on the act of praying. We will investigate what the Scriptures say about things like attitude, frequency and posture. Hopefully, this will provide us with an even more holistic view of prayer.
In the previous article, I emphasized the requirement to have communion with YHVH. I we want to spend time in the presence of YHVH, we need to ensure that we do it in the right way.  This "right way" consists of multiple dimensions. I believe that the primary aspect should be our attitude when praying. With what mindset to you approach the King of Kings?
Attitude
If we want to know what our attitude should be when praying, we can turn to the teachings of our Rabbi – Y'Shua the Messiah.  During His ministry on earth, He spoke a number of times about our attitude when praying.  Not only does He tell us the correct attitude, He warns us, with examples, of what not to do. As I mentioned in the previous article, Y'Shua also highlights faith as one of the primary aspects. Not only are we to ask, we are to  believe that we have received.
Mark 11:24–26
24 "Therefore I say to you, all things for which you pray and ask, believe that you have received them, and they will be granted you. 25 "Whenever you stand praying, forgive, if you have anything against anyone, so that your Father who is in heaven will also forgive you your transgressions. 26 ["But if you do not forgive, neither will your Father who is in heaven forgive your transgressions."]
This faith is then manifested in actions.  As you may already know, the Hebrew mindset is very action orientated.  We discussed this topic in detail in the article entitled "Faith is something you do." In a book, that I read in preparation for this study, I also found a very good explanation of the sequence of faith.
Again: faith is obedient; it goes when commanded, as did the nobleman, who came to Jesus, in the day of His flesh, and whose son was grievously sick. Moreover: such faith acts. Like the man who was born blind, it goes to wash in the pool of Siloam when told to wash. Like Peter on Gennesaret it casts the net where Jesus commands, instantly, without question or doubt. Such faith takes away the stone from the grave of Lazarus promptly. A praying faith keeps the commandments of God and does those things which are well pleasing in His sight. It asks, "Lord, what wilt Thou have me to do?" and answers quickly, "Speak, Lord, Thy servant heareth." Obedience helps faith, and faith, in turn, helps obedience. To do God's will is essential to true faith, and faith is necessary to implicit obedience. 1
In this verse in Mark, Y'Shua also mentions that we need to have an attitude of forgiveness towards other. Y'Shua taught His disciples the principle of forgiveness a number of times (Matthew 6:14–15, Matthew 18:21–35, Luke 6:37).  In addition, in the example prayer, that He teaches His disciples, the topic of forgiveness is emphasized.
Matthew 6:12–15
12 'And forgive us our debts, as we also have forgiven our debtors. 13 'And do not lead us into temptation, but deliver us from evil. [For Yours is the kingdom and the power and the glory forever. Amen.]' 14 "For if you forgive others for their transgressions, your heavenly Father will also forgive you. 15 "But if you do not forgive others, then your Father will not forgive your transgressions.
We also see in Y'Shua's own prayers He keeps on forgiving, even those who had sentenced Him to die.
Luke 23:34
34 But Y'Shua was saying, "Father, forgive them; for they do not know what they are doing." And they cast lots, dividing up His garments among themselves.
Y'Shua also teaches that it is important for us to be humble when we pray. He used the example of a Pharisee and a tax collector to explain this concept.
Luke 18:10–14
10 "Two men went up into the temple to pray, one a Pharisee and the other a tax collector. 11 "The Pharisee stood and was praying this to himself: 'YHVH, I thank You that I am not like other people: swindlers, unjust, adulterers, or even like this tax collector. 12 'I fast twice a week; I pay tithes of all that I get.' 13 "But the tax collector, standing some distance away, was even unwilling to lift up his eyes to heaven, but was beating his breast, saying, 'YHVH, be merciful to me, the sinner!' 14 "I tell you, this man went to his house justified rather than the other; for everyone who exalts himself will be humbled, but he who humbles himself will be exalted."
We see that the one extreme was a person who was very focused on himself and his achievements. The Pharisee mentions the fact that he is "super"  obedient, doing even more than what is expected of him. None of what he does is against what is taught in the commandments of YHVH.  Yet, the attitude and reason for doing this is what is the problem. On the other hand we have a tax collector.  This is typically somebody that is known for greed.  These were the people that extracted a much as they could out of the people. Here we have a sinful person with a humble attitude. The tax collector knows that he is a sinner and need the mercy of YHVH. I believe that the concept of being humble goes a lot further than simply recognizing that you are not better than everybody else. I believe that being humble removes the "self" from the center of you world. It means that in our prayers and actions we also include others.  We pray for others, we forgive and we care! This is what is also referred to as the second greatest commandment.
Matthew 22:36–40
36 "Teacher, which is the great commandment in the Law?" 37 And He said to him, " 'You shall love the YHVH your Elohim with all your heart, and with all your soul, and with all your mind.' 38 "This is the great and foremost commandment. 39 "The second is like it, 'You shall love your neighbor as yourself.' 40 "On these two commandments depend the whole Law and the Prophets."
Y'Shua warns us not to be like the hypocrites.  What exactly is a hypocrite.  We see the dictionary definition:
  a person who puts on a false appearance of virtue or religion
a person who acts in contradiction to his or her stated beliefs or feelings 2
Thus it is clear that a hypocrite is not true about their actions.  They do things for a different reason.
Matthew 6:5
5 "When you pray, you are not to be like the hypocrites; for they love to stand and pray in the synagogues and on the street corners so that they may be seen by men. Truly I say to you, they have their reward in full.
In this case the people are praying not because they really want communion with YHVH, but because they would like to show others how righteous they are.  Once again, they are making themselves the center of the attention. We need to ensure that we pray because we really want communion, forgiveness, guidance or express our thanks. YHVH knows all, including the intention of our hearts.  We may be able to fool others or even ourselves, but Him we will not fool.
From all these topics I do believe that we need to take a bit of time to get ourselves in the correct mindset for prayer.  Get ourselves out of the center and into perspective, questions our motives for every thing we ask, and think about our neighbors and loved ones.
How often should we pray?
Another topic that is discussed often is the frequency of prayer.  We see several traditions that require people to pray a set number of times per day at set intervals.  How scriptural is this?
If we again look at the Scriptures to see what is being taught, we see the practice of the apostles of Y'Shua in the days following His resurrection and ascension. It is recorded that the prayed continually.
Acts 1:13–14
13 When they had entered the city, they went up to the upper room where they were staying; that is, Peter and John and James and Andrew, Philip and Thomas, Bartholomew and Matthew, James the son of Alphaeus, and Simon the Zealot, and Judas the son of James. 14 These all with one mind were continually devoting themselves to prayer, along with the women, and Mary the mother of Y'Shua, and with His brothers.

Acts 2:42
42 They were continually devoting themselves to the apostles' teaching and to fellowship, to the breaking of bread and to prayer.
What does this word "continually devoting" mean in Greek?
προσκαρτερέω
a persist: 68.68
b associate closely: 34.2
c serve personally: 35.28 3 
Thus we see the different renderings of this word in the translations:
constantly devoting – NRSV
continuing with one mind – The Scriptures
devoted themselves single-mindedly – Complete Jewish Bible
devoting themselves – ESV
We see this that the description is not about the frequency of how often they prayed, but the fact that they continued with the practice.
Paul also speaks about these terms.  We find two specific verses that is quoted quite frequently to proof that we should always be praying.
Ephesians 6:18
18 With all prayer and petition pray at all times in the Spirit, and with this in view, be on the alert with all perseverance and petition for all the saints,
In this verse the emphasis of what Paul is trying to convey is that we should do our praying in the Spirit. "At all times" cannot be taken out of context here.  The full phrase is "pray all times in the Spirit."
1 Thessalonians 5:16–18
16 Rejoice always; 17 pray without ceasing; 18 in everything give thanks; for this is YHVH's will for you in Messiah Y'Shua.
Here again, the message is not that the people should be praying constantly, but rather that they should not stop the practice of praying. It is very logical to conclude that Paul cannot tell people to always be rejoicing and always be praying. He could however, to keep up their practice of praying and to remain in good spirit and be thankful for what they have.
We can find some pattern of set prayer times in the Scriptures. These are the times that coincided with the offerings being made in the temple. These offers were made early in the morning (3rd hour) and the evening (9th hour).  During these offers the priests would make blessings and prayers of worship. The temple were able to come and see these sacrifices every day and sing/pray with the priests. We find in the Scriptures that the apostles and the believers kept this tradition.
Acts 3:1
1 Now Peter and John were going up to the temple at the ninth hour, the hour of prayer.

Acts 10:30–31
30 Cornelius said, "Four days ago to this hour, I was praying in my house during the ninth hour; and behold, a man stood before me in shining garments, 31 and he said, 'Cornelius, your prayer has been heard and your alms have been remembered before YHVH.
We also find Scriptural proof that the apostles still saw the temple as a place to go if they wanted to pray. Y'Shua also referred to the temple as the House of Prayer. Not only for the Israelites, but for all the nations.
Mark 11:17
17 And He began to teach and say to them, "Is it not written, 'My house shall be called a house of prayer for all the nations'? But you have made it a robbers' den."

Acts 22:17
17 "It happened when I returned to Jerusalem and was praying in the temple, that I fell into a trance,
However, we find this practice of set prayer times much earlier in the Scriptures.  It is not something specific to the second temple period.  The first occurrence of this is in Psalms, when David describes his prayers. He does not mention the prayers twice a day, but rather three times a day – evening, morning and noon.
Psalm 55:17
17 Evening and morning and at noon, I will complain and murmur, And He will hear my voice.
We also see Daniel, in Babylon, praying three times a day.  Daniel also specifically mentions that one of these times was about the time of the evening offering.
Daniel 6:10
10 Now when Daniel knew that the document was signed, he entered his house (now in his roof chamber he had windows open toward Jerusalem); and he continued kneeling on his knees three times a day, praying and giving thanks before his Elohim, as he had been doing previously.

Daniel 9:20–21
20 Now while I was speaking and praying, and confessing my sin and the sin of my people Israel, and presenting my supplication before YHVH my Elohim in behalf of the holy mountain of my Elohim, 21 while I was still speaking in prayer, then the man Gabriel, whom I had seen in the vision previously, came to me in my extreme weariness about the time of the evening offering.
The apostle Peter, also had the noon (6th hour) as a predefined time for prayer.
Acts 10:9
9 On the next day, as they were on their way and approaching the city, Peter went up on the housetop about the sixth hour to pray.
Thus we see that there existed from the earliest days set routines for prayer.  At the same time we see numerous examples of spontaneous prayer that is not associated with any of these fixed times.  We see that Y'Shua also prayed at many differetn times during the day.
Luke 3:21
21 Now when all the people were baptized, Y'Shua was also baptized, and while He was praying, heaven was opened,

Luke 5:16
16 But Y'Shua Himself would often slip away to the wilderness and pray.

Luke 6:12
12 It was at this time that He went off to the mountain to pray, and He spent the whole night in prayer to YHVH.

Luke 22:41
41 And He withdrew from them about a stone's throw, and He knelt down and began to pray,
Thus from a Scriptural perspective we can see that it is not an either/or situation between fixed and spontaneous prayer.  Sufficient examples of both cases can be found in the Scriptures. I believe that this is consistent with the idea of constantly seeking communion with the One that you love. We should speak to our heavenly Father whenever we have the need for His love, support, guidance or fellowship.
Posture
We still have today a number of discussions and disagreements on what is the best or correct posture when praying. Most of these traditions can find their way back to the Scriptures. We have several verses in Scripture that record a specific posture while praying.
Standing
We have references in both the Tanakh and Apostolic Scriptures that mentions a person standing while praying.
Genesis 24:12–13
12 He said, "O YHVH, the Elohim of my master Abraham, please grant me success today, and show lovingkindness to my master Abraham. 13 "Behold, I am standing by the spring, and the daughters of the men of the city are coming out to draw water;

Mark 11:25
25 "Whenever you stand praying, forgive, if you have anything against anyone, so that your Father who is in heaven will also forgive you your transgressions.
Lifting up of hands
Another very common posture that is still being used today is the lifting up of our hands during prayer. As with standing, references can be found in both Tanakh and Apostolic Scriptures.
1 Kings 8:54
54 When Solomon had finished praying this entire prayer and supplication to YHVH, he arose from before the altar of YHVH, from kneeling on his knees with his hands spread toward heaven.

1 Timothy 2:8
8 Therefore I want the men in every place to pray, lifting up holy hands, without wrath and dissension.
Kneeling
In the verse above from 1 Kings, we see that King Solomon was not standing while praying, but was kneeling.  This is another posture that we find a number of references to. Thus, we cannot make the statement that you must stand, or you must kneel.  You cannot do both at the same time, and we find scriptural support for both.
Daniel 6:10–11
10 Now when Daniel knew that the document was signed, he entered his house (now in his roof chamber he had windows open toward Jerusalem); and he continued kneeling on his knees three times a day, praying and giving thanks before his Elohim, as he had been doing previously. 11 Then these men came by agreement and found Daniel making petition and supplication before his Elohim.

Luke 22:41
41 And He withdrew from them about a stone's throw, and He knelt down and began to pray,

Acts 21:5
5 When our days there were ended, we left and started on our journey, while they all, with wives and children, escorted us until we were out of the city. After kneeling down on the beach and praying, we said farewell to one another.
Eyes
We see in the Scriptures some references to eyes being lifted in prayer. Y'Shua lifted His eyes to heaven when praying to His Father.
Psalm 123:1–2
1 To You I lift up my eyes, O You who are enthroned in the heavens! 2 Behold, as the eyes of servants look to the hand of their master, As the eyes of a maid to the hand of her mistress, So our eyes look to YHVH our Elohim, Until He is gracious to us.

Luke 18:13
13 "But the tax collector, standing some distance away, was even unwilling to lift up his eyes to heaven, but was beating his breast, saying, 'God, be merciful to me, the sinner!'

John 17:1
1 Y'Shua spoke these things; and lifting up His eyes to heaven, He said, "Father, the hour has come; glorify Your Son, that the Son may glorify You,
We do not see any reference to people closing their eyes when praying.  This tradition started much later and was introduced to ensure that people were not distracted while praying.
Attire
The only reference we find in Scripture regarding attire during prayer is from Paul.  In this topic, Paul discusses head coverings.
1 Corinthians 11:4–5
4 Every man who has something on his head while praying or prophesying disgraces his head. 5 But every woman who has her head uncovered while praying or prophesying disgraces her head, for she is one and the same as the woman whose head is shaved.
For a more complete discussion of this topic, please refer to the previous studies: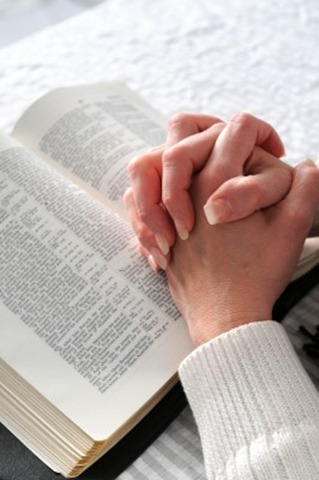 We also find in the Apocrypha a reference to the tradition of Jewish men covering their heads. It is recorded in 2 Maccabees that High Priest appointed by Antiochus Epiphanies, introduced new Greek customs in order to help hellenize the people. One of these traditions was the wearing of the "petasus" – a broad-brimmed low-crowned hat worn by ancient Greeks and Romans especially: the winged hat of Hermes. 2
2 Maccabees 4:10–12
10 And when the king had given his assent, Jason at once exercised his influence in order to bring over his fellow countrymen to Greek ways of life. 11 Setting aside the royal ordinances of special favour to the Jews, obtained by John the father of Eupolemus who had gone as envoy to the Romans to secure their friendship and alliance, and seeking to overthrow the lawful modes of life, he introduced new customs forbidden by the law: 12 he deliberately established a gymnasium under the citadel itself, and made the noblest of the young men wear the petasus.
Alone or in groups
Another topic that is often discussed is the practice of praying in groups. Is this a concept that is supported in Scripture or is it purely based on tradition?  Y'Shua frequently preferred to pray alone.  We do not find any reference that Y'Shua participated in a group prayer. We do find more than one reference of Y'Shua pronouncing a blessing before eating, even in a large group.
Matthew 26:36
36 Then Y'Shua came with them to a place called Gethsemane, and said to His disciples, "Sit here while I go over there and pray."

Mark 1:35
35 In the early morning, while it was still dark, Y'Shua got up, left the house, and went away to a secluded place, and was praying there.

Luke 5:16
16 But Y'Shua Himself would often slip away to the wilderness and pray.
Y'Shua also taught that we should pray on our own in our inner room. This comes back to the topic we discussed earlier about not being a hypocrite when praying.
Matthew 6:6
6 "But you, when you pray, go into your inner room, close your door and pray to your Father who is in secret, and your Father who sees what is done in secret will reward you.
When we study the book of Acts we do find frequent references to the apostles and other believers praying together. This is not a specific reference to using a liturgy in fixed format prayer, but rather a group of people being together in one place.  It can also be assumed that in some cases the groups were mixed, containing both male and female.
Acts 12:11–12
11 When Peter came to himself, he said, "Now I know for sure that YHVH has sent forth His angel and rescued me from the hand of Herod and from all that the Jewish people were expecting." 12 And when he realized this, he went to the house of Mary, the mother of John who was also called Mark, where many were gathered together and were praying.

Acts 13:3
3 Then, when they had fasted and prayed and laid their hands on them, they sent them away.

Acts 20:36–37
36 When he had said these things, he knelt down and prayed with them all. 37 And they began to weep aloud and embraced Paul, and repeatedly kissed him,
Fixed format or Spirit Lead
The topic of using a liturgy (fixed format) when praying is a topic that very often leads to strive within fellowships. The concept of liturgy originated from the prayers that the priest would recite while performing service in the temple. These included some of what we have today in the book of Psalms. The instructions that Moses received regarding the tabernacle did not include any instructions regarding any form of public praying.  There is an instruction for the High Priest, Aaron, to pronounce a blessing over the people.
Numbers 6:22–27
22 Then YHVH spoke to Moses, saying,
23 "Speak to Aaron and to his sons, saying, 'Thus you shall bless the sons of Israel. You shall say to them:
24 YHVH bless you, and keep you;
25 YHVH make His face shine on you, And be gracious to you;
26 YHVH lift up His countenance on you, And give you peace.'
27 "So they shall invoke My name on the sons of Israel, and I then will bless them."
The disciples asked Y'Shua how they should pray.  Y'Shua gave them an example prayer that they could use. Today we still find this prayer, also called " The Lord's Prayer," used quite often as a fixed format of prayer (liturgy).
Matthew 6:9–13
9 "Pray, then, in this way:
'Our Father who is in heaven, Hallowed be Your name.
10 'Your kingdom come. Your will be done, On earth as it is in heaven.
11 'Give us this day our daily bread.
12 'And forgive us our debts, as we also have forgiven our debtors.
13 'And do not lead us into temptation, but deliver us from evil.
[For Yours is the kingdom and the power and the glory forever. Amen.]'
For me, it is clear from the way Y'Shua started this, that He did not require of His disciples, specifically to pray only this prayer. He gave them " a way" that they could pray.
For me there does not need to be an either/or situation.  I see some powerful prayer in some of the liturgy that is available today, but at the same time, I do not think that this is the only way to pray.  When you have a discussion with somebody you love, you do not always do this by reading poems to him/her.  Poems are beautiful, but not the only way to communicate. The same for prayer! In a lot of cases, I simply need to have a discussion with my Heavenly Father. Then there isn't always the perfect predefined prayer for that.
This is a topic that can be examined in a lot more detail. It warrants a detailed study of it's own.
Conclusion
The most important point of prayer is not about the "how" and the "when." From the scriptures, we have seen many different postures for praying.  Thus, it would be very difficult to proof that the Scriptures provide a specific posture that must be used during prayer. The crucial part of prayer lies in the reason we pray and the attitude when we pray. We need to believe in the Elohim of Abraham, Isaac and Jacob, for you cannot have communion if you do not believe. Y'Shua taught that we need to have even more faith.  We also need to believe that we will receive the things that we ask for.
Psalm 145:18–19
18 YHVH is near to all who call upon Him, To all who call upon Him in truth. 19 He will fulfill the desire of those who fear Him; He will also hear their cry and will save them.

Mark 11:24
24 "Therefore I say to you, all things for which you pray and ask, believe that you have received them, and they will be granted you.
However, what we pray must be His will.
Matthew 6:10
10 'Your kingdom come. Your will be done, On earth as it is in heaven.

1 John 5:14
14 This is the confidence which we have before Him, that, if we ask anything according to His will, He hears us.
Prayer is not always answered immediately. We see in the case of Daniel, that there may exist some obstacles that we are not even aware of.
Daniel 10:12–13
12 Then he said to me, "Do not be afraid, Daniel, for from the first day that you set your heart on understanding this and on humbling yourself before your Elohim, your words were heard, and I have come in response to your words. 13 "But the prince of the kingdom of Persia was withstanding me for twenty-one days; then behold, Michael, one of the chief princes, came to help me, for I had been left there with the kings of Persia.
We need to be able to rely on the timing of YHVH. He knows best!
We have the assurance from YHVH, that if we walk in His way, and humble ourselves before Him, He will hear us.
2 Chronicles 7:14
14 and My people who are called by My name humble themselves and pray and seek My face and turn from their wicked ways, then I will hear from heaven, will forgive their sin and will heal their land.
References
Bounds, E. M. (1999). The necessity of prayer. Oak Harbor, WA: Logos Research Systems, Inc.
Merriam-Webster, I. (2003).Merriam-Webster's collegiate dictionary. Springfield, MA: Merriam-Webster, Inc.
Louw, J. P., & Nida, E. A. (1996).Greek-English lexicon of the New Testament: based on semantic domains. New York: United Bible Societies.
Further reading
Tags: arms, eyes, faith, forgiveness, hypocrisy, kneeling, liturgy, Pharisees, prayer, Psalm, standing, temple, tradition
Trackback from your site.