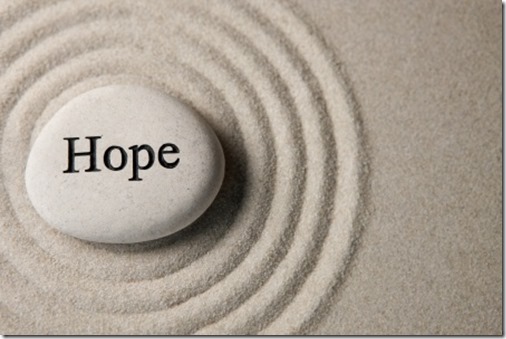 Hope is one of the finest responses of which the human spirit is capable. It has kept people alive and buoyant when the conditions of life were almost unbearable. Men of letters have saluted it with language that has become axiomatic, such as "hope springs eternal in the human heart" and "where there is life there is hope." Scripture speaks similarly: "Anyone who is among the living has hope" (Eccl. 9:4, NIV).2
Hopelessness on the other hand is defined as despair or desperation, having no expectation of good, incapable of improvement or not susceptible to remedy.3 We all experience hopelessness to a certain degree from time to time. Sometimes it motivates us to change, while other times it seems like a deep black pit we are in, and unable to get out of. The question is how do we deal with this? How do we get to the point of change or out of that endless pit? It reminds me of Psalm 23; David wrote about "the valley of the shadow of death." That is what hopelessness feels like.
Sometimes we face situations that makes us lose hope, and without hope we lose interest in life, we stop living to the full and only exist. When we just exist, we lose our drive, our motivation and our joy. What a tragedy that is. Life is so short, too short to allow ourselves to lose hope. So, when we are in these hopeless times, which seems to be never-ending, where does our hope come from? Where should it come from?
We shall show you how hope and faith are connected and that, even when we think we have no hope, we always have hope in YHVH, the hope of Israel.
We shall first define hope.
What is hope?
5223 I. מִקְוֶה (miq·wě(h)): n.[masc.]; ≡ Str 4723; TWOT 1994c—1. LN 25.59–25.64 hope, looking forward to, i.e., have a confidence in regard to a good and beneficial future (1Ch 29:15; Ezr 10:2; Jer 50:7+), see also domain LN 30.53–30.55; 2. LN 12.1–12.42 unit: מִקְוֶה יִשְׂרָאֵל (miq·wě(h) yiś·rā·ʾēl) Hope of Israel, i.e., a title of a supernatural being (Jer 14:8; 17:13+)4
1994 קָוָה (qāwâ) I, wait, look for, hope.
Derivatives
1994a קַו (qaw) line.
1994b קַוְקָו (qawqāw) might (Isa 18:2,7).
1994c מִקְוֶה (miqweh) hope.
1994d תִּקְוָה (tiqwâ) I, cord (Josh 2:18, 21, only).
1994e תִּקְוָה (tiqwâ) II, hope.
This root means to wait or to look for with eager expectation. It is used for the wicked who make an attempt to destroy the life of the righteous (Ps 56:6 [H 7]; 119:95). Waiting with steadfast endurance is a great expression of faith. It means enduring patiently in confident hope that God will decisively act for the salvation of his people (Gen 49:18). Waiting involves the very essence of a person's being, his soul (nepeš; Ps 130:5). Those who wait in true faith are renewed in strength so that they can continue to serve the Lord while looking for his saving work (Isa 40:31). There will come a time when all that God has promised will be realized and fulfilled (Isa 49:23; Ps 37:9). In the meantime the believer survives by means of his integrity and uprightness as he trusts in God's grace and power (Ps 25:21). His faith is strengthened through his testings, and his character is further developed (Ps 27:14). 5
The Theological wordbook of the Old Testament defines hope as follows:
Hope is one of the finest responses of which the human spirit is capable. It has kept people alive and buoyant when the conditions of life were almost unbearable. Men of letters have saluted it with language that has become axiomatic, such as "hope springs eternal in the human heart" and "where there is life there is hope." Scripture speaks similarly: "Anyone who is among the living has hope" (Eccl. 9:4, NIV).
Hope is also a mark of human limitation. Granted that it owes much to the promises of God, yet those promises are especially welcome because of our lack of knowledge of the future and our inability to effect radical change. Hope is a testimony to man's humility in the face of his finiteness. It amounts to a protest against any assumption that the present contains the ideal situation for mankind.
We may assume that hope has no place in the being of God. True, Paul can refer to Him as the God of hope (Rom. 15:13), but probably only in the sense that He is the one who inspires hope in His people, unless we are to suppose that Paul is suggesting that God Himself lives in an aura of anticipation, pondering His plans for the future.
It is hardly adequate to define hope as expectation, for someone could expect judgment and on that account be utterly without hope. Expectation must be yoked with confidence and desire in order to qualify as hope. Frequently in our culture the familiar "I hope so" is really only an admission of a thinly veiled pessimism.2
To hope is to wait and look.
Hope is sometimes expressed by other terms, especially "wait" and "look." For the Hebrew, waiting on the Lord was not primarily a matter of spending time but was rather an attitude of trust and expectation. It could bring the reward of exchanging one's own weakness for divine strength (Isa. 40:31). God is represented as one who works for those who wait for Him (Isa. 64:4).4
Hope being one of the finest responses of which the human spirit is capable, is also the mark of human limitation. We don't have knowledge of the future and can't always affect the required change. That makes us lose hope. Sometimes all we can do is hope for a good outcome. To really have hope is to have an eager expectation yoked with confidence and desire. That confidence is faith. Hope and faith are connected. You really can't have hope without faith.
An atheist, for example, don't really have hope, because their hope is grounded in themselves, other people or circumstances. It is the same for us if we think we have hope without having faith in the One who can affect a change.
Let's see if we can prove it from Scripture.
The faith and hope connection
The author of Hebrews defines faith as the confidence of things hoped for. This is a stunning definition and shows us the faith-hope connection.
Hebrews 11:1
1 Now faith is the assurance of things hoped for, the conviction of things not seen.
The Lexham English Bible translates this as follows:
Hebrews 11:1
Now faith is the realization of what is hoped for, the proof of things not seen. 6
The word assurance or realization could also be translated as follows:
5712 ὑπόστασις (hypostasis), εως (eōs), ἡ (hē): n.fem.; ≡ Str 5287; TDNT 8.572—1. LN 58.1 substance, nature, essence (Heb 1:3+); 2. LN 31.84 trust, confidence, being sure (2Co 9:4; 11:17; Heb 3:14; 11:1+)4
Without confidence in what we hope for, hope is just thinly veiled pessimism. Here is a practical illustration of the connection. A year or two ago, I regularly visited a neighbor who was terminally ill with cancer. She asked me to pray for her for she was not sure what would happen to her after she died. She prayed with me, asked for forgiveness, but still continually asked me if she had salvation. I told her over and over that she needed to believe that Y'shua died for her sins and that she will have eternal life if she believed in Him. She always answered with "I hope so." It was so sad to see. She just could not bring herself to believe in the hope she had.
Hope is real when we have confidence in the One Who controls the outcome. When we have that, we can rejoice in hope, abound in hope and exult in hope.
Romans 12:12
12 rejoicing in hope, persevering in tribulation, devoted to prayer,
While we rejoice in hope, we are to persevere in tribulation, devoted to prayer. Perseverance and prayer is important. YHVH will give us hope by the power of His Set Apart Spirit.
Romans 15:13
13 Now may the Elohim of hope fill you with all joy and peace in believing, so that you will abound in hope by the power of the Holy Spirit.
Romans 5:2
2 through whom also we have obtained our introduction by faith into this grace in which we stand; and we exult in hope of the glory of Elohim.
Exult can also be translated as boast. That is how sure we are of the hope we have. We are to boast in hope of the glory of YHVH, for it is He who controls the outcome.
YHVH is in control
YHVH is in control, He created EVERTYTHING; He can use whatever He wishes for His purposes.
Isaiah 54:16
16 "Behold, I Myself have created the smith who blows the fire of coals And brings out a weapon for its work; And I have created the destroyer to ruin.
YHVH is the King of the Universe, the Creator of all. He has created satan also, and uses him to do His will. Just think about the book of Job. Satan acted after YHVH gave him permission to. Satan is used to test Job's faith to the ultimate.
Another Scripture that confirms this is in Isaiah 45:
Isaiah 45:6–7
6 That men may know from the rising to the setting of the sun That there is no one besides Me. I am YHVH, and there is no other, 7 The One forming light and creating darkness, Causing well-being and creating calamity; I am YHVH who does all these.
YHVH created both light and darkness. Light and darkness has the following associative meanings depending on context.
"Or" in Hebrew is light
240 II. אוֹר (ʾôr): n.masc.; ≡ Str 216; TWOT 52a—1. LN 14.36–14.52 light, i.e., that which is contrasted to darkness (Ge 1:3), note: in some contexts with the associative meaning of guidance, health, life, prosperity, enlightened judgment, and other positive things;4
"Hosek" in Hebrew is darkness
3125 חֹשֶׁךְ (ḥō·šěḵ): n.masc.; ≡ Str 2822; TWOT 769a—1. LN 14.53–14.62 darkness, the dark, i.e., the lack of light in a space (Ge 1:4; Ex 10:21), note: there are many associative meanings to "darkness," including terror, ignorance, sadness, confusion, evil;4
YHVH causes well-being and creates calamity. He does this by many means. We have done a study on this previously, if you would like to learn more you can read "Who makes the earth quake?"
This said, does this mean that YHVH created sin? No, but He gave man free will and sin basically is a wrong choice. A choice contrary to YHVH's way or instructions. So, because man has free will, he has the ability to sin.
We also read in Scripture that YHVH can do whatever He pleases.
Psalm 115:3
3 But our Elohim is in the heavens; He does whatever He pleases.
Psalm 135:6
6 Whatever YHVH pleases, He does, In heaven and in earth, in the seas and in all deeps.
We also know from Scripture that YHVH will not act contrary to His nature. YHVH is sovereign.
Daniel 4:35
35 "All the inhabitants of the earth are accounted as nothing, But He does according to His will in the host of heaven And among the inhabitants of earth; And no one can ward off His hand Or say to Him, 'What have You done?'
Y'shua calms the storm
A good example of this principle is seen in the narrative about Y'shua calming the storm. If YHVH is in control of everything, like we know He is, He created that storm. Y'shua, when He calms that storm, not only tests and teaches His disciples, He also shows His sovereignty and authority.
Mark 4:37–41
37 And there arose a fierce gale of wind, and the waves were breaking over the boat so much that the boat was already filling up. 38 Y'shua Himself was in the stern, asleep on the cushion; and they woke Him and said to Him, "Teacher, do You not care that we are perishing?" 39 And He got up and rebuked the wind and said to the sea, "Hush, be still." And the wind died down and it became perfectly calm. 40 And He said to them, "Why are you afraid? How is it that you have no faith?" 41 They became very much afraid and said to one another, "Who then is this, that even the wind and the sea obey Him?"
YHVH is in control and sovereighn, we should therefor be hoping in Him. For in Him lies our salvation and our future. YHVH, our Heavenly Father gave us many promises and He is true to His promises. We can hope in Him.
Our hope in Him
YHVH has a plan for each one of us, plans for our welfare and not for calamity, plans to give us a future and a hope. This is the key to having hope, because when we know that we are here on earth because YHVH purposed it to be so, we already have hope. It is for us to pursue to know and fulfill that purpose YHVH has for us.
Jeremiah 29:11
11 'For I know the plans that I have for you,' declares YHVH, 'plans for welfare and not for calamity to give you a future and a hope.
In Him there is hope for our future, no matter what goes on in the world.
Jeremiah 31:17
17 "There is hope for your future," declares YHVH, "And your children will return to their own territory.
We are to wait for YHVH, have our hope steadfast in Him.
Psalm 130:5–8
5 I wait for YHVH, my soul does wait, And in His word do I hope. 6 My soul waits for YHVH More than the watchmen for the morning; Indeed, more than the watchmen for the morning. 7 O Israel, hope in YHVH; For with YHVH there is lovingkindness, And with Him is abundant redemption. 8 And He will redeem Israel From all his iniquities.
When we hope in Him, we will not be put to shame.
Isaiah 49:23
23 "Kings will be your guardians, And their princesses your nurses. They will bow down to you with their faces to the earth And lick the dust of your feet; And you will know that I am YHVH; Those who hopefully wait for Me will not be put to shame.
The evildoers will have a different outcome, but we who wait for YHVH will inherit the land.
Psalm 37:9
9 For evildoers will be cut off, But those who wait for YHVH, they will inherit the land.
This sounds so easy, to hope in YHVH. But, how are we to do this? We have already seen that we are to have faith while we hope and to such an extend that we rejoice in our hope, and exult in it. What else? How do we conduct ourselves while we hope?
How are we to hope in YHVH?
We have already leared that we are to have confidence in our hope. When we have faith in the One who controls the outcome of what we hope for, we will be able to rejoice as if it has already happened. He will give us the power to do so through His Spirit.
We are also to walk in integrity and uprightness while we wait.
Walk in integrity and uprightness
Psalm 25:21
21 Let integrity and uprightness preserve me, For I wait for You.
That means we are to walk in obedience. That is what YHVH requires of us. To learn more about what YHVH requires of us, you can read the post What does YHVH require of us? This is confirmed in Isaiah:
Isaiah 64:4–5
4 For from days of old they have not heard or perceived by ear, Nor has the eye seen a God besides You, Who acts in behalf of the one who waits for Him. 5 You meet him who rejoices in doing righteousness, Who remembers You in Your ways. Behold, You were angry, for we sinned, We continued in them a long time; And shall we be saved?
We are to do YHVH's ways, not ours. That means doing righteousness.
Be strong and take courage
We are also to be strong and to take courage while we wait. That means we are to be steadfast in our belief that YHVH will help us. We are to be positive and assured that whatever His outcome is, would be best for us.
Psalm 27:14
14 Wait for YHVH; Be strong and let your heart take courage; Yes, wait for YHVH.
Psalm 31:24
24 Be strong and let your heart take courage, All you who hope in YHVH.
"Be strong" is defined as follows:
599 אָמֵץ (ʾā·mēṣ): v.; ≡ Str 553; TWOT 117—1. LN 87.19–87.57 (qal) be strong, i.e., have high status (Ge 25:23); 2. LN 39.52–39.61 (qal) be victorious, have a victory, i.e., conquer another (2Ch 13:18); 3. LN 88.223–88.226 (piel) harden, be obstinate, i.e., have a stubborn, self-willed heart that will not change behavior or belief (Dt 2:30; 15:7; 2Ch 36:13+); 4. LN 23.188–23.196 (piel) let grow, i.e., have a plant grow and increase (Isa 44:14); 5. LN 76 (qal) be strong; (piel) marshal force, muster strength, strengthen, i.e., focus one's strength for a great exertion (Am 2:14); 6. LN 25.156–25.166 (qal) be courageous (Dt 31:6); (piel) strengthen, support, make bold, i.e., cause one to have or show courage (Dt 3:28); (hif) strengthen (Ps 27:14); 7. LN 45 (piel) reinforce, strengthen, i.e., make a wall strong (2Ch 24:13); 8. LN 23.129–23.141 (piel) strengthen, steady, i.e., support a physically weak object (Job 4:4); 9. LN 85.32–85.54 (piel) establish, i.e., place or put in a certain place (Pr 8:28); 10. LN 68.63–68.78 (hitp) determine, persist, i.e., do something extensively or intensely (Ru 1:18; 1Ki 12:18; 2Ch 10:18+); 11. LN 39.1–39.12 unit: (hitp) אָמֵץ עַל (ʾā·mēṣ ʿǎl)2 oppose, formally, persist against,4
When we get depressed…
Even when we have hope, we may sometimes get depressed…
Hope may sometimes suffer partial eclipse or alternate with depression. The psalmist admits to being in low spirits, but this very condition prods him to hope in God (Ps. 42:11 [MT 12]).2
Psalm 42:11
11 Why are you in despair, O my soul? And why have you become disturbed within me? Hope in Elohim, for I shall yet praise Him, The help of my countenance and my Elohim.
This verse is very profound! Notice how David talks to his soul here. This is something we should do too, speak truth to ourselves. Proclaim YHVH's promises to remind us of it.
You may not know this but we can relate this principal to modern physcology, wherin it is applied as existential analysis. Very simplistically defined it is thinking about what we are thinking. As with every great "discovery," we find its foundation in Scripture as we have seen here. I am not trying to promote this form of psycology, but will show you in a future article how we can benefit from doing what David did especailly when dealing with depression and anxiety. Please subscribe to make sure you don't miss it.
Conclusion
Hope is something we all aspire to have, yet sometimes we lose hope. The purpose of this article is to help us get back on track when all seem hopeless. Our hope should be in YHVH, as He is in control of everything and He will do according to His will. It may not always be in line with our plans, but His plans are far better. This is the foundation of our hope and this teamed with faith will make us invincible. We will be able to overcome anything that comes across our path.
References
All quoted passages are from the New American Standard Bible: 1995 Update. LaHabra, CA: The Lockman Foundation, 1995. We have substituted YHVH for LORD, and Y'shua for Jesus.
Harrison, E. F. (1979–1988). Hope. In (G. W. Bromiley, Ed.

)

The International Standard Bible Encyclopedia, Revised. Wm. B. Eerdmans.
Swanson, J. (1997). Dictionary of Biblical Languages with Semantic Domains

:

Hebrew (Old Testament). Oak Harbor: Logos Research Systems, Inc.
Hartley, J. E. (1999). 1994 קָוָה. (R. L. Harris, G. L. Archer Jr., & B. K. Waltke, Eds.

)

Theological Wordbook of the Old Testament. Chicago: Moody Press.
Harris, W. H., III, Ritzema, E., Brannan, R., Mangum, D., Dunham, J., Reimer, J. A., & Wierenga, M. (Eds.). (2012). The Lexham English Bible (Heb 11:1). Bellingham, WA: Lexham Press.