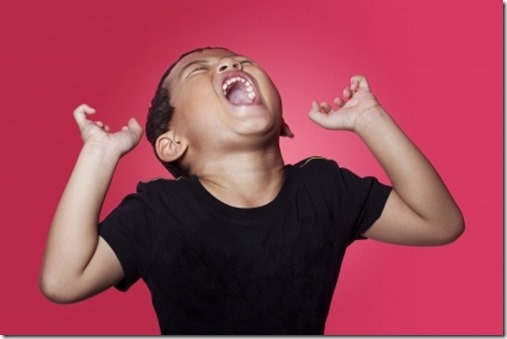 I believe that one of the reasons YHVH gives us children is to teach us about ourselves :) Consider what happens when we give our children everything they desire at the very moment they want it? They get spoiled. When children are spoiled and told that they can't have something, they pout and sulk. Some will even storm off or throw a tantrum. It is usually an ugly display of discontentment. This display is not only a result of their emotional state, but often to manipulate parents into giving in. This conduct is not unique to children. When things don't go our way, we sometimes act in the same way towards our heavenly Father. We tend to focus on our perception of how things should be and when it's not that way, we complain and feel discontented.
The opposite of this is being thankful for what we have, yet it is something that does not come naturally. The purpose of this article is to help us recognize the negative behavior in ourselves and then to do something about it. Thankfulness is a very prominent theme in the Bible, but so is complaining. We shall look at a few examples of each to see what we can learn from it.
Complaining
There are many examples of complaining in the Bible. The exodus from Egypts and the time in the wilderness was very difficult and very often the Israelites grumbled because of this. We are told by Paul that these things happened to them as an example, and were written down for our instruction.
1 Corinthians 10:11
11 Now these things happened to them as an example, and they were written for our instruction, upon whom the ends of the ages have come.
Let us look at a few examples.
The Israelites at the Red Sea
After the Israelites left Egypt, they encountered the Red Sea before them and the Egyptians behind them. This is how they reacted:
Exodus 14:10–11
10 As Pharaoh drew near, the sons of Israel looked, and behold, the Egyptians were marching after them, and they became very frightened; so the sons of Israel cried out to YHVH. 11 Then they said to Moses, "Is it because there were no graves in Egypt that you have taken us away to die in the wilderness? Why have you dealt with us in this way, bringing us out of Egypt?
Moses on the other hand comforted the people with these words.
Exodus 14:13–14
13 But Moses said to the people, "Do not fear! Stand by and see the salvation of YHVH, which He will accomplish for you today; for the Egyptians whom you have seen today, you will never see them again forever. 14 "YHVH will fight for you while you keep silent."
The Israelites feared, but Moses had faith.
The bitter water at Marah
Exodus 15:23–24
23 When they came to Marah, they could not drink the waters of Marah, for they were bitter; therefore it was named Marah. 24 So the people grumbled at Moses, saying, "What shall we drink?"
This is what Moses did:
Exodus 15:25
25 Then he cried out to YHVH, and YHVH showed him a tree; and he threw it into the waters, and the waters became sweet. There He made for them a statute and regulation, and there He tested them.
The Israelites complained, but Moses cried out to YHVH.
The Israelites grumble about the food
It is the fifteenth day of the second month after their departure from Egypt and it is the third time they are grumbling.
Exodus 16:2–3
2 The whole congregation of the sons of Israel grumbled against Moses and Aaron in the wilderness. 3 The sons of Israel said to them, "Would that we had died by YHVH's hand in the land of Egypt, when we sat by the pots of meat, when we ate bread to the full; for you have brought us out into this wilderness to kill this whole assembly with hunger."
This time YHVH responded, it is not recorded what Moses did or said.
Exodus 16:4
4 Then YHVH said to Moses, "Behold, I will rain bread from heaven for you; and the people shall go out and gather a day's portion every day, that I may test them, whether or not they will walk in My instruction.
The books of Exodus and Numeri has many more examples. The forty years in the wilderness was not easy. Another good example is when the spies returned with their reports after spying out the land. The Israelites feared and complained bitterly.
Numbers 14:1–4
1 Then all the congregation lifted up their voices and cried, and the people wept that night. 2 All the sons of Israel grumbled against Moses and Aaron; and the whole congregation said to them, "Would that we had died in the land of Egypt! Or would that we had died in this wilderness! 3 "Why is YHVH bringing us into this land, to fall by the sword? Our wives and our little ones will become plunder; would it not be better for us to return to Egypt?" 4 So they said to one another, "Let us appoint a leader and return to Egypt."
This was the reaction of Moses, Aaron, Joshua and Caleb:
Numbers 14:5–9
5 Then Moses and Aaron fell on their faces in the presence of all the assembly of the congregation of the sons of Israel. 6 Joshua the son of Nun and Caleb the son of Jephunneh, of those who had spied out the land, tore their clothes; 7 and they spoke to all the congregation of the sons of Israel, saying, "The land which we passed through to spy out is an exceedingly good land. 8 "If YHVH is pleased with us, then He will bring us into this land and give it to us—a land which flows with milk and honey. 9 "Only do not rebel against YHVH; and do not fear the people of the land, for they will be our prey. Their protection has been removed from them, and YHVH is with us; do not fear them."
The Israelites feared, but Moses, Aaron, Joshua and Caleb had faith. Sadly, all had to go through the wilderness, but Joshua and Caleb got to enter the land. Moses and Aaron did not due to their disobedience later. (Num. 20:12)
The pattern is the same every time. The Israelites were confronted with a situation and instead of waiting on YHVH for help, they feared the worst and started complaining. They did not have faith and had very short memories. YHVH has done so much for them. He delivered them every time, yet it seems that whenever a new hardship came their way, they forgot about all the other times and fell back into their habit of complaining. This was now the tenth time that they tested YHVH in this way and He was ready to destroy them because of their rebellion.
Complaining leads to rebellion
Complaining or grumbling very easily goes over into full-blown rebellion. We find proof of this in Deuteronomy.
Deuteronomy 1:26–27
26 "Yet you were not willing to go up, but rebelled against the command of YHVH your Elohim; 27 and you grumbled in your tents and said, 'Because YHVH hates us, He has brought us out of the land of Egypt to deliver us into the hand of the Amorites to destroy us.
Deuteronomy 9:23
23 "When YHVH sent you from Kadesh-barnea, saying, 'Go up and possess the land which I have given you,' then you rebelled against the command of YHVH your Elohim; you neither believed Him nor listened to His voice.
When something, we perceive as negative, happens, we feel disappointed or angry. Then we start complaining or grumbling. While grumbling, we start to analyze the situation. We try to figure out why this happened and what the possible worst case scenario would be. Fear sets in, because we start believing these lies that we concocted in our minds. At this stage, the logical next step is to rebel against whoever we feel is responsible for the situation. Very often, as believers, we hold YHVH responsible and rebel against Him. This all happens very quickly.
Rebellion is regarded the same as witchcraft.
1 Samuel 15:23
23 "For rebellion is as the sin of divination, And insubordination is as iniquity and idolatry. Because you have rejected the word of YHVH, He has also rejected you from being king."
We often do as the Israelites did, we complain due to a lack of faith and we also forget about all YHVH has done for us. We tend to focus on just this one incident in front of us. We are instead to remember what YHVH did for us and gratefully look forward to His deliverance. We are to speak truth to ourselves.
YHVH is testing us
It is written that YHVH tested the Israelites at Marah (Ex 15:25) and when they grumbled in the wilderness after they left Elim (Ex 16:4). We find some more on this in Deuteronomy.
Deuteronomy 8:2
2 "You shall remember all the way which YHVH your Elohim has led you in the wilderness these forty years, that He might humble you, testing you, to know what was in your heart, whether you would keep His commandments or not.
If you think about it carefully, then you would realize why YHVH gave us commandments to keep. One reason is to benefit us, it is our instructions for living. Another reason is to test our faithfulness towards Him. When we choose to obey YHVH, we choose life, both in the physical and spiritual. We have written about this many times before. For example, YHVH gave us a diet to follow, not to make our lives difficult, but to benefit us. It is unhealthy to eat the things He calls an abomination. He also gave us the instruction not to have marital relations during the time of Niddah. This too is to protect us. YHVH is wisdom and He is love. He wants the best for us. All He asks of us is to be a light, to live our lives as a testimony of His greatness.
We ought to do this by being thankful in everything and in every circumstance.
Being thankful
1 Thessalonians 5:18
18 in everything give thanks; for this is Elohim's will for you in Messiah Y'shua.
If we believe that YHVH is in control of everything, we must believe that whatever happens to us is for our good, or His glory. We do sometimes make wrong choices and suffer the consequences of that, but YHVH can use that too.
Romans 8:28
28 And we know that Elohim causes all things to work together for good to those who love Elohim, to those who are called according to His purpose.
He has started a work in us, He will complete it.
Philippians 1:6
6 For I am confident of this very thing, that He who began a good work in you will perfect it until the day of Messiah Y'shua.
This is our foundation, we are to hold on to this. This, and also the fact that we don't know what exactly YHVH has planned for us. He knows the big picture, we don't. We only see in part and when that part we see doesn't line up with our perception of how things should be, we tend to grumble.
Praise YHVH
There are many calls to praise YHVH in Scripture. There was a special sacrifice of thanksgiving.
Leviticus 22:29
29 "When you sacrifice a sacrifice of thanksgiving to YHVH, you shall sacrifice it so that you may be accepted.
When we are thankful to YHVH, we honor Him. We acknowledge that He is in control of the universe.
Psalm 50:23
23 "He who offers a sacrifice of thanksgiving honors Me; And to him who orders his way aright I shall show the salvation of Elohim."
We can't bring sacrifices due to the absence of the Temple. However, we can honor YHVH with the sacrifice of our lips, prayer.
Hebrews 13:15
15 Through Him then, let us continually offer up a sacrifice of praise to Elohim, that is, the fruit of lips that give thanks to His name.
Psalm 100:1–5
1 Shout joyfully to YHVH, all the earth. 2 Serve YHVH with gladness; Come before Him with joyful singing. 3 Know that YHVH Himself is Elohim; It is He who has made us, and not we ourselves; We are His people and the sheep of His pasture. 4 Enter His gates with thanksgiving And His courts with praise. Give thanks to Him, bless His name. 5 For YHVH is good; His lovingkindness is everlasting And His faithfulness to all generations.
Two things stand out for me in these verses. Firstly, in Leviticus, it is written that "you shall sacrifice a sacrifice of thanksgiving so that you may be accepted" Then in Psalm 100, we read that we are to enter YHVH's gates with thanksgiving. It seems that when we are thankful to YHVH, we enter His gates and are accepted before Him. It pleases YHVH when we give thanks to Him.
Psalm 69:30–31
30 I will praise the name of Elohim with song And magnify Him with thanksgiving. 31 And it will please YHVH better than an ox Or a young bull with horns and hoofs.
Here are a few more examples of being thankful.
Psalm 107:21–22
21 Let them give thanks to YHVH for His lovingkindness, And for His wonders to the sons of men! 22 Let them also offer sacrifices of thanksgiving, And tell of His works with joyful singing.
Colossians 2:6–7
6 Therefore as you have received Messiah Y'shua the Master, so walk in Him, 7 having been firmly rooted and now being built up in Him and established in your faith, just as you were instructed, and overflowing with gratitude.
Colossians 4:2
2 Devote yourselves to prayer, keeping alert in it with an attitude of thanksgiving;
Revelation 7:12
12 saying, "Amen, blessing and glory and wisdom and thanksgiving and honor and power and might, be to our Elohim forever and ever. Amen."
Having an attitude of gratitude
Having an attitude of gratitude pleases YHVH, but did you know that it benefits us physically as well. I don't want to take away from the spiritual side of thankfulness, but it is amazing to see once again that serving YHVH in the way He wants to be served, is to our benefit.
The movie Polyanna made a lasting impression on me. It is from a novel written in 1913, a children's classic. Here is a bit of background.
The title character is named Pollyanna Whittier, a young orphan who goes to live in Beldingsville, Vermont, with her wealthy but stern and cold spinster Aunt Polly, who does not want to take in Pollyanna, but feels it is her duty to her late sister. Pollyanna's philosophy of life centers on what she calls "The Glad Game," an optimistic attitude she learned from her father. The game consists of finding something to be glad about in every situation. It originated in an incident when Pollyanna, who was hoping for a doll in the missionary barrel, found only a pair of crutches inside. Making the game up on the spot, Pollyanna's father taught her to look at the good side of things—in this case, to be glad about the crutches because "we didn't need to use them!"2
This little girl was always finding something to be grateful for, no matter what happened. This is the attitude we are to have. We are to find something to be thankful for in everything that happens in our lives. Life can be very hard sometimes, and then it is very difficult to find something to be thankful for. In this story, Polyanna had an accident which rendered her paralyzed and she was very depressed, so much so, that she couldn't find anything to be glad about. Then all the town's people came to visit, telling her how she changed their lives by influencing them to have this attitude. This gave her something to be glad about.
I know it's a children's story, but we can learn from it. We can develop an attitude of gratitude. Try to find something positive in everything and see if you live won't change too. To do this is scriptural too.
The Apostle Paul wrote that we are to give thanks in everything. This is about having an attitude of gratitude.
1 Thessalonians 5:18
18 in everything give thanks; for this is Elohim's will for you in Messiah Y'shua.
The life-changing effects of having an attitude like this has been scientifically proven. Not that we need science to prove that the Bible is the truth, but it is amazing to know that it can be proven for those who doubt. Having an attitude of gratitude creates positive emotions and that causes us to look broader and learn new skills. A good example is a child at play. Playing is a positive activity and stimulates children to learn and be creative. Consider the opposite, imagine that you are walking in a park and suddenly a lion jumps out in front of you. Your instinct tells you to turn and run. You are so blinded by fear that you don't consider any other options.
When we are confronted with difficult situations, and focus on the negative, we too are blinded by it and it makes it impossible for us to see a positive outcome. So, the Apostle Paul is right, we are to give thanks in everything and have faith that YHVH is in control of the outcome.
Conclusion
Every time we encounter a difficult situation, we have two options, we can choose to fear or to have faith. If we fear, we will start to grumble and will rebel against YHVH. This rebellion will cause sickness, we are currently doing a study on sickness and healing and will tell you more about this in that series of articles. However, if we have faith, we will be thankful knowing that YHVH is in control. We will be able to face the situation knowing that we are not alone and that YHVH will show us a way through that.
So, we can choose to have an attitude of gratitude and wait on YHVH in faith, or we can continue in fear, grumbling and rebellion and suffer the consequences. We are to speak truth to ourselves in this also. We can only speak truth if we know the truth. We are to memorize YHVH's word so that it becomes a part of us. Then, when we start doubting, we are to call His word to mind.
Philippians 4:13
13 I can do all things through Him who strengthens me.
Matthew 21:21
21 And Y'shua answered and said to them, "Truly I say to you, if you have faith and do not doubt, you will not only do what was done to the fig tree, but even if you say to this mountain, 'Be taken up and cast into the sea,' it will happen.
References
All quoted passages are from the New American Standard Bible: 1995 Update. LaHabra, CA: The Lockman Foundation, 1995. We have substituted YHVH for LORD and Y'shua for Jesus.