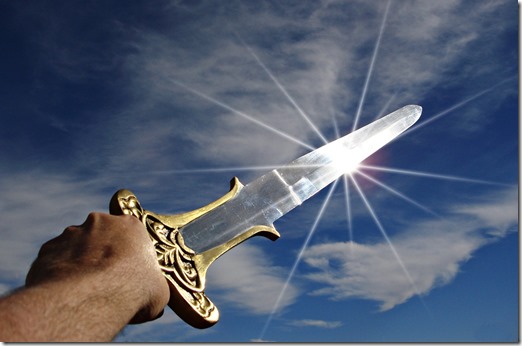 Do you speak with boldness about YHVH and His things or do you prefer to keep quiet? Boldness is another one of those recurring themes that I am experiencing in my life. I believe that it is not only for me, but that YHVH is calling us to be bold and to tell people about Him. This is still possible, we have the freedom now, but only YHVH knows for how long. Persecution of believers is on the increase and will force most to silence. If you follow what is happening in the world, you will notice that anti-Semitism is growing and persecution of believers is on the rise. It is against all believers; Jewish, Christian and Torah-observant believers in Y'shua are all on this list.
We need to understand that all three groups believe in the same Elohim. The Jewish people have been blinded and has as a result of this not yet accepted Y'shua as the Messiah. The Christians, on the other hand, are blinded not to accept the validity of YHVH's Torah. This is changing as more Jewish people are accepting Y'shua as the Messiah and more Christian's eyes are being opened to YHVH's life-changing truth.
Why do we consider both the Christian and Jewish groups to be blinded and not the group we are in? A specific group is mentioned twice in Revelation, those who keep the commandments of Elohim and hold on to the testimony of Y'shua.
Revelation 12:17
17 So the dragon was enraged with the woman, and went off to make war with the rest of her children, who keep the commandments of Elohim and hold to the testimony of Y'shua.
Revelation 14:12
12 Here is the perseverance of the saints who keep the commandments of Elohim and their faith in Y'shua.
If we want to be part of YHVH's "saints, " we are to keep His commandments and have faith in Y'shua's redemptive work. Other groups are not mentioned. With this I am not saying that this group is not without fault. These three groups can be seen as brothers with different levels of revelation.
This will probably go against popular teachings that Christians are in essence pagans and similar disturbing teachings about the Jewish people. Friends, do not believe this, THIS IS WRONG! However, we are not to condone false doctrine, and are definitely not to partake in whatever is contrary to YHVH's Word, including traditions or feasts.
Before YHVH revealed truth to us, we were part of the Christian group. I know that we did not willfully rebel against YHVH's commandments, we were simply brought up with wrong doctrine. We did believe in YHVH. However, this changed when we asked YHVH to reveal His truth to us. Being the faithful Elohim that He is, He revealed to us that His law has not been done away with. He changed our hearts and opened our eyes and we repented and chose obedience.
You will, however, find people who hear the truth, but willfully reject it and rebel against it. That is different, but most Christians are simply blinded to the truth. It is the same with Jewish people, they too have been blinded. All this is part of YHVH's redemption plan for mankind.
Isaiah 6:10
10 "Render the hearts of this people insensitive, Their ears dull, And their eyes dim, Otherwise they might see with their eyes, Hear with their ears, Understand with their hearts, And return and be healed."
For how long will this be?
Isaiah 6:11
11 Then I said, "YHVH, how long?" And He answered, "Until cities are devastated and without inhabitant, Houses are without people And the land is utterly desolate,
Then, all the eyes will be open and all the ears will hear and all hearts would be receptive to YHVH's truth. The restoration process has already begun, but will conclude as written here. To read more about this restoration, go to When shall the restoration of all things be? In this article, we explain in more detail how YHVH has begun this restoration process and when it will be completed.
Interestingly, after Y'shua told the parable of the sower, He was asked why He was teaching in parables. He answered, quoting Isaiah 6:10. . This verse has been quoted seven times in the Apostolic writings. This is not for nothing.
As I said before, you reading this, are part of this restoration process which YHVH has begun and will conclude at His perfect time. We are workers with Him in this and we are called to be bold.
What is boldness?
The Greek word "parrÄ"sia" is used 31 times in Scripture. It is sometimes translated as boldness, confidence, publicly, openly or plainly.
This word is used in two contexts. One is boldness in speaking YHVH's word and the other boldness to come before the throne of YHVH. We will briefly look at boldness to come before YHVH, but will focus on boldness in speaking YHVH's word.
Boldness to come before YHVH
Because of Y'shua's redemptive work, we can boldly come before YHVH.
Ephesians 3:11–12
11 This was in accordance with the eternal purpose which He carried out in Messiah Y'shua our Master, 12 in whom we have boldness and confident access through faith in Him.
1 John 5:14
14 This is the confidence (boldness) which we have before Him, that, if we ask anything according to His will, He hears us.
Hebrews 10:19–22
19 Therefore, brethren, since we have confidence (boldness)to enter the holy place by the blood of Y'shua, 20 by a new and living way which He inaugurated for us through the veil, that is, His flesh, 21 and since we have a great priest over the house of Elohim, 22 let us draw near with a sincere heart in full assurance of faith, having our hearts sprinkled clean from an evil conscience and our bodies washed with pure water.
This does not mean that what YHVH has instituted before has been done away with. Y'shua taught that He did not come to change or abolish what YHVH has put in place (Matt 5:17-21). It means that Y'shua is an advocate for us before YHVH. He does not accuse us, but intercedes on our behalf as explained in the book of Hebrews. You can read more about this in the article: The New High Priest on Yom Kippurim
The other context is boldness in speech.
It can be defined as standing up for or sharing truth, sometimes even in intimidating circumstances. In this case it becomes an act of courage.
25.158 παρρησία, ας f: a state of boldness and confidence, sometimes implying intimidating circumstances—'boldness, courage.' προσερχώμεθα οὖν μετὰ παρρησίας τῷ θρόνῳ τῆς χάριτος 'let us boldly approach the throne of grace' He 4:16; μὴ ἀποβάλητε οὖν τὴν παρρησίαν ὑμῶν, ἥτις ἔχει μεγάλην μισθαποδοσίαν 'do not lose your courage which brings a great reward' He 10:35.
Louw, J. P., & Nida, E. A. (1996). Greek-English lexicon of the New Testament: based on semantic domains (electronic ed. of the 2nd edition., Vol. 1, p. 306). New York: United Bible Societies.
To be bold is to share truth without having a fear of man. This fear may be for physical harm, but also for being scoffed at.
Boldness in speech
When Y'shua was questioned after being arrested He told them that He always spoke boldly, not in secret. He went to the public places, the synagogues, to teach the people.
John 18:20
20 Y'shua answered him, "I have spoken openly (boldly) to the world; I always taught in synagogues and in the temple, where all the Jews come together; and I spoke nothing in secret.
Y'shua's disciples spoke boldly, just as He had.
Acts 4:13
13 Now as they observed the confidence of Peter and John and understood that they were uneducated and untrained men, they were amazed, and began to recognize them as having been with Y'shua.
Peter and John were summoned and commanded not to speak of Y'shua or teach about Him.
Acts 4:18
18 And when they had summoned them, they commanded them not to speak or teach at all in the name of Y'shua.
They, then prayed to YHVH, that He might grant them to speak His word boldly.
Acts 4:29
29 "And now, YHVH, take note of their threats, and grant that Your bond-servants may speak Your word with all confidence,
Acts 14:3
3 Therefore they spent a long time there speaking boldly with reliance upon YHVH, who was testifying to the word of His grace, granting that signs and wonders be done by their hands.
Steven also comes to mind. He spoke with great boldness even until his death. Paul was also known for speaking boldly.
2 Corinthians 3:12
12 Therefore having such a hope, we use great boldness in our speech,
Acts 28:30–31
30 He lived there two whole years at his own expense, and welcomed all who came to him, 31 proclaiming the kingdom of Elohim and teaching about the Master Y'shua Messiah with all boldness and without hindrance.
Ephesians 6:19
19 and pray on my behalf, that utterance may be given to me in the opening of my mouth, to make known with boldness the mystery of the gospel,
From these examples of Y'shua and His followers, we learn that we too have to be bold when speaking about YHVH, because we are to imitate Y'shua. He is our perfect example and the fact that His followers also spoke boldly, confirms this.
The boldness Paul refers to is fueled by faith.
Boldness fuelled by faith
Philippians 1:14
14 and that most of the brethren, trusting in YHVH because of my imprisonment, have far more courage to speak the word of Elohim without fear.
Philippians 1:20
20 according to my earnest expectation and hope, that I will not be put to shame in anything, but that with all boldness, Messiah will even now, as always, be exalted in my body, whether by life or by death.
Ephesians 3:12
12 in whom we have boldness and confident access through faith in Him.
1 Thessalonians 2:2
2 but after we had already suffered and been mistreated in Philippi, as you know, we had the boldness in our Elohim to speak to you the gospel of Elohim amid much opposition.
Boldness is a manifestation of faith. Where does this boldness originate from.
Where does our boldness originate from?
We find the answer in the book of Acts.
Acts 4:31
31 And when they had prayed, the place where they had gathered together was shaken, and they were all filled with the Holy Spirit and began to speak the word of Elohim with boldness.
Before they were filled with the Holy Spirit, this is what they prayed:
Acts 4:29
29 "And now, YHVH, take note of their threats, and grant that Your bond-servants may speak Your word with all confidence,
(The word "confidence" is the same Greek word and can be translated as boldness.) When we ask YHVH to grant us to speak with boldness, He will enable us by filling us with His Spirit. We can be filled with the Spirit multiple times, but this is a study for another time.
Y'shua also spoke about how the Spirit would give the words to speak when believers are persecuted for example.
Matthew 10:19–20
19 "But when they hand you over, do not worry about how or what you are to say; for it will be given you in that hour what you are to say. 20 "For it is not you who speak, but it is the Spirit of your Father who speaks in you.
When we are filled with YHVH's Spirit, it is important to listen to Him.
1 Thessalonians 5:19
19 Do not quench the Spirit;
Ephesians 4:30
30 Do not grieve the Holy Spirit of Elohim, by whom you were sealed for the day of redemption.
We grieve the Holy Spirit when we rebel against YHVH.
Isaiah 63:10
10 But they rebelled And grieved His Holy Spirit; Therefore He turned Himself to become their enemy, He fought against them.
When Saul continued in sin, thus rebelling against YHVH, YHVH removed His Spirit from him and gave him a spirit to torment him instead.
It is essential for us to be filled with YHVH's Spirit. We cannot have true boldness when we don't have YHVH's Spirit in us. How do we know it is YHVH's Spirit speaking to us? We are to test it against YHVH's word and we can ask Him for confirmation.
Boldness is fueled by faith and enabled by YHVH's Spirit. We just have to be available and willing to do YHVH's will. We are also to be careful not to steamroller ahead and do our own thing in the name of boldness. Ask for confirmation if you are unsure, but make sure you act and speak according to YHVH's leading.
A great reward
There is also a great reward for those who do not throw away their boldness.
Hebrews 10:35
35 Therefore, do not throw away your confidence, which has a great reward.
If there is a reward for doing something, there usually are consequences for not doing it.
Not speaking boldly when we are required to have consequences
Read these two passages in Ezekiel and consider what is said here.
Ezekiel 3:17–21
17 "Son of man, I have appointed you a watchman to the house of Israel; whenever you hear a word from My mouth, warn them from Me. 18 "When I say to the wicked, 'You will surely die,' and you do not warn him or speak out to warn the wicked from his wicked way that he may live, that wicked man shall die in his iniquity, but his blood I will require at your hand. 19 "Yet if you have warned the wicked and he does not turn from his wickedness or from his wicked way, he shall die in his iniquity; but you have delivered yourself. 20 "Again, when a righteous man turns away from his righteousness and commits iniquity, and I place an obstacle before him, he will die; since you have not warned him, he shall die in his sin, and his righteous deeds which he has done shall not be remembered; but his blood I will require at your hand. 21 "However, if you have warned the righteous man that the righteous should not sin and he does not sin, he shall surely live because he took warning; and you have delivered yourself."
Ezekiel 33:6–9
6 'But if the watchman sees the sword coming and does not blow the trumpet and the people are not warned, and a sword comes and takes a person from them, he is taken away in his iniquity; but his blood I will require from the watchman's hand.' 7 "Now as for you, son of man, I have appointed you a watchman for the house of Israel; so you will hear a message from My mouth and give them warning from Me. 8 "When I say to the wicked, 'O wicked man, you will surely die,' and you do not speak to warn the wicked from his way, that wicked man shall die in his iniquity, but his blood I will require from your hand. 9 "But if you on your part warn a wicked man to turn from his way and he does not turn from his way, he will die in his iniquity, but you have delivered your life.
Ezekiel was appointed a watchman. A watchman is called by YHVH to warn others, he was a prophet. We may also, from time to time, be called to this task of warning others. You may be called to warn a co-worker or family member or to tell them about YHVH. When we are called by YHVH, we are to fulfill this responsibility with boldness. If we don't, that person may die in their iniquity, and their blood will be required from us. I say may, because YHVH can use another person if we are disobedient, but what if this was this persons' last opportunity, and we didn't obey?
We can, however, not make the choice for them, we can only warn them. We plant the seed, YHVH will make it grow. The choice remains with them whether they will heed the warning. This is conveyed by the second part of the verse. If they were warned, and do not listen, their blood will be on their own head.
Conclusion
It is not easy to be different, especially in the world we live in. Being believers means we stand out and say things that may confront people. The system also promotes tolerance of all kinds of sin, so when we speak out about this, we go against the grain. Once again a confronting situation. This confrontation may put strain on relationships or make us feel uncomfortable. This may force us to silence.
However, if we follow Y'shua and His disciples' example, we are to be bold and speak His word whenever an opportunity arises. This does not necessarily mean we are all to stand on street corners and proclaim the word of YHVH, although to some it might mean that. It means we are to listen to that small voice and say what needs to be said with boldness. We are not to hide our faith or keep quiet when prompted by YHVH to say or do something. If we are unsure, we can ask for confirmation from YHVH and we can test what the Spirit prompted us to do or say against YHVH's word. YHVH'S Spirit would never contradict His word.
When we became believers, we became YHVH's servants. We work for Him, and are to do His will. This may require speaking or acting in boldness. If we do, we will receive a great reward. If we don't, we will have to give a reckoning of it.
We are to pray that our Father fill us with His Spirit so we can speak His word with boldness. Boldness without fear of man.
Hebrews 13:6
6 so that we confidently say, "YHVH is my helper, I will not be afraid. What will man do to me?"
2 Timothy 1:7
7 For Elohim has not given us a spirit of timidity, but of power and love and discipline.
References
All quoted passages are from the New American Standard Bible: 1995 Update. LaHabra, CA: The Lockman Foundation, 1995. We have substituted YHVH for LORD and Y'shua for Jesus.