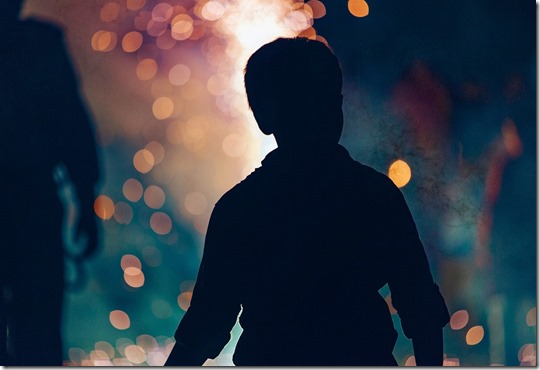 When we become believers, we become children of YHVH. He is our Father who loves us unconditionally and wants the best for us. If we did not have an earthly father who modelled this love for us, or failed us in any way, we may not be able to fully comprehend this love the Father has for us. It is human nature to equate our perception of our earthly father with whom we think YHVH is. The reality is that our earthly fathers will fail us and this will give us a flawed perception of who YHVH is. If your father didn't protect you, you will have difficulty is trusting YHVH for protection. If your father always criticized you, you will see YHVH as a Father looking for faults in you. This brokenness robs us of the blessing of our Father's love and makes it difficult or impossible for us to have a relationship with Him built on absolute trust.
We will think like orphans and might instead of having a relationship with Him, endeavor to please Him with performance. This performance may take on different forms. We may, for example, devote ourselves to helping people, or attempt to keep YHVH's commandments perfectly. We do this because we want to feel accepted and loved by Him. It also has the benefit of being seen as righteous by others. It is not wrong to keep YHVH's commandments, but do we do it with a heart of love for YHVH and for others, or are we performing to feel accepted and acceptable?
What is the fruit we display? Do we strife and fight with others who have a different opinion? Are we teachable or is our understanding the only one? Is keeping the commandments more important to us than love and mercy for others? Do we go around judging others in their journey or do we give people a chance to walk their own path and grow? Do we have a long history of broken relationships? Do we trust YHVH completely in everything or look to other people for help? Is our relationship with the Father about what He can do for us, or is it about love? Are we led by YHVH's Spirit or by others? Do we hear His voice and do we know it is Him speaking to us?
Consider these questions. If our foundational trust is not in YHVH, then we are not led by His Spirit and we don't hear and know His voice. Furthermore, we are unteachable and our focus is on performance rather than love and mercy. This is the fruit of orphan thinking.
We are currently doing a course by Amanda Buys of Kanaan ministies: Journey 2wholeness. In this course, she explains in detail how this orphan thinking is linked to the curse for illegitemacy as in Deut 23:2.
Deuteronomy 23:2
2 Those born of an illicit union shall not be admitted to the assembly of YHVH. Even to the tenth generation, none of their descendants shall be admitted to the assembly of YHVH.
Each one of us is suffering from this in a spiritual sense. I cannot explain it all in an article. If you want to know more about the background information, you can do the course. It explains it all in detail. This article flows from what we have learned in this course.
Part of the healing from this curse of illegitimacy is to renew our minds and establish for ourselves our identity in Y'shua. Knowing who we are in Y'shua and who our Father is, is part of gaining freedom from this.
We think like orphans because we don't know or can't comprehend who we are in Y'shua and our most foundational trust is not in YHVH. We need to change our thinking and this change or renewal of our mind will enable us to have a proper relationship with YHVH. We need to understand our identity in Messiah Y'shua and, more importantly, we need to believe that we are children of the Most High. I mean really believe with all our being. Most of us battle with this, we can't relate to YHVH as our Father who loves us, so we perform. All this originated in the garden of Eden because of sin.
In the beginning
When YHVH created the world and everything in it, He said it was good and it was. He had a relationship with Adam and Eve. He walked and talked with them in the cool of the evening in the garden. After YHVH made them, He first blessed them before He commanded them to be fruitful, subdue the earth and rule over every living thing.
Genesis 1:28
28 Elohim blessed them; and Elohim said to them, "Be fruitful and multiply, and fill the earth, and subdue it; and rule over the fish of the sea and over the birds of the sky and over every living thing that moves on the earth."
When Adam and Eve chose to disobey YHVH and ate of the forbidden fruit, sin entered the world and the relationship between them and YHVH changed. After they sinned, they hid from YHVH, they were ashamed and afraid of Him. Their sin brought separation from YHVH, they were spiritually cut off from the Father. They became spiritual orphans, like illegitimate children, they were cast out of the garden.
The relationship was never intended to be performance based, but we made it to be. It is our attempt to restore what we have lost. YHVH, however, loves us and wants to bless us. He wants a relationship with us. We see that again at Sinai, He wanted to have a relationship with every person, He wanted to speak directly to them, but they were afraid and asked if Moses could go between.
YHVH, however, knew all this from the foundation of the world and has made it possible for us to have a relationship with Him. Through Y'shua, our relationship with Him can be restored. Through Y'shua, we are adopted, we are true sons and daughters. In this next section of the article we will quote scriptures to show you who we are in Y'shua. In order to displace the principality of illegitimacy, the orphan thinking, we need to internalize this. We are to renew our minds. For this reason, we recommend that you not only study these scriptures, but memorize them.
I am a true son or daughter of Elohim
It was prophesied that we will be called sons (and daughters) of the living Elohim.
Hosea 1:10
10 Yet the number of the sons of Israel Will be like the sand of the sea, Which cannot be measured or numbered; And in the place Where it is said to them, "You are not My people," It will be said to them, "You are the sons of the living Elohim."
Through Y'shua, this has been fulfilled. Therefor, through Y'shua I am a true son/daughter of YHVH Elohim, the Creator of heaven and earth. There are many passages that attest to this.
Ephesians 1:5
5 He predestined us to adoption as sons through Y'shua Messiah to Himself, according to the kind intention of His will,
As children of Elohim, we receive the Holy Spirit as a pledge of our inheritance.
Ephesians 1:13–14
13 In Him, you also, after listening to the message of truth, the gospel of your salvation—having also believed, you were sealed in Him with the Holy Spirit of promise, 14 who is given as a pledge of our inheritance, with a view to the redemption of Elohim's own possession, to the praise of His glory.
Galatians 4:6–7
6 Because you are sons, Elohim has sent forth the Spirit of His Son into our hearts, crying, "Abba! Father!" 7 Therefore you are no longer a slave, but a son; and if a son, then an heir through Elohim.
We have not received a spirit of slavery that requires performance, but a spirit of adoption as sons and daughters. A slave does what is required of him and is accepted because of that, a son or daughter is accepted and as a result of that acceptance does what is required of him or her. If we perform to be accepted, we have a slave mentality.
Romans 8:14–17
14 For all who are being led by the Spirit of Elohim, these are sons of Elohim. 15 For you have not received a spirit of slavery leading to fear again, but you have received a spirit of adoption as sons by which we cry out, "Abba! Father!" 16 The Spirit Himself testifies with our spirit that we are children of Elohim, 17 and if children, heirs also, heirs of Elohim and fellow heirs with Messiah, if indeed we suffer with Him so that we may also be glorified with Him.
2 Corinthians 6:18
18 "And I will be a father to you, And you shall be sons and daughters to Me," Says YHVH Almighty.
1 John 3:1
1 See how great a love the Father has bestowed on us, that we would be called children of Elohim; and such we are. For this reason the world does not know us, because it did not know Him.
If we believe in Y'shua, we are born of Elohim.
John 1:12–13
12 But as many as received Him, to them He gave the right to become children of Elohim, even to those who believe in His name, 13 who were born, not of blood nor of the will of the flesh nor of the will of man, but of Elohim.
This is powerful! If I receive Him, I have the right to become a child of Elohim, as one born of Elohim.
Galations 3:26 confirms this, adding that in Y'shua, we are Abraham's descendants. YHVH does not make a distinction between different people. All who believe in Him are His children, whether we are Jews or Greeks, slave or free, male or female. We are one in Messiah.
Galatians 3:26–29
26 For you are all sons of Elohim through faith in Messiah Y'shua. 27 For all of you who were baptized into Messiah have clothed yourselves with Messiah. 28 There is neither Jew nor Greek, there is neither slave nor free man, there is neither male nor female; for you are all one in Messiah Y'shua. 29 And if you belong to Messiah, then you are Abraham's descendants, heirs according to promise.
YHVH sees us as a part of His nation Israel. I am part of His family. My Father is the King of the universe.
Ephesians 2:19
19 So then you are no longer strangers and aliens, but you are fellow citizens with the saints, and are of Elohim's household,
1 Peter 2:9
9 But you are a chosen race, a royal priesthood, a holy nation, Elohim's own people, in order that you may proclaim the mighty acts of him who called you out of darkness into his marvelous light.
Romans 8:17
17 and if children, heirs also, heirs of Elohim and fellow heirs with Messiah, if indeed we suffer with Him so that we may also be glorified with Him.
We have said that we don't have to perform in order to gain acceptance as children of YHVH, but that we, as a result of that acceptance, are to be obedient to our Father. True sons and daughters are obedient to YHVH's word. If we refuse to listen and do the instructions of YHVH, we are false sons and daughters.
Isaiah 30:9
9 For this is a rebellious people, false sons, Sons who refuse to listen To the instruction of YHVH;
The word translated as listen is "shema" which means in Hebrew to hear and do, to obey.
Not only am I a child of the Most High, in Y'shua, I am a new creature.
In Y'shua, I am a new creature
2 Corinthians 5:17
17 Therefore if anyone is in Messiah, he is a new creature; the old things passed away; behold, new things have come.
We become a new creature in Y'shua, our sins removed from us through His blood. We are not identified by our sin anymore, but by newness of life in Y'shua.
Psalm 103:12–13
12 As far as the east is from the west, So far has He removed our transgressions from us. 13 Just as a father has compassion on his children, So YHVH has compassion on those who fear Him.
When we become believers, we are to be baptized as baptism is like a spiritual death and resurrection in Y'shua. Our next article is about the significance of baptism.
Romans 6:4
4 Therefore we have been buried with Him through baptism into death, so that as Messiah was raised from the dead through the glory of the Father, so we too might walk in newness of life.
Ephesians 2:10
10 For we are His workmanship, created in Messiah Y'shua for good works, which Elohim prepared beforehand so that we would walk in them.
Colossians 3:9–10
9 Do not lie to one another, since you laid aside the old self with its evil practices, 10 and have put on the new self who is being renewed to a true knowledge according to the image of the One who created him—
We are to take this identity on, the identity of being a new creature in Y'shua and live accordingly.
Ephesians 4:22–24
22 You were taught to put away your former way of life, your old self, corrupt and deluded by its lusts, 23 and to be renewed in the spirit of your minds, 24 and to clothe yourselves with the new self, created according to the likeness of Elohim in true righteousness and holiness.
YHVH passed before Moses and proclaimed His character. We were created in His likeness.
Exodus 34:6–7
6 YHVH passed before him, and proclaimed, "YHVH, YHVH, a Elohim merciful and gracious, slow to anger, and abounding in steadfast love and faithfulness, 7 keeping steadfast love for the thousandth generation, forgiving iniquity and transgression and sin, yet by no means clearing the guilty, but visiting the iniquity of the parents upon the children and the children's children, to the third and the fourth generation."
We can therefore reflect some of His character if we are in Y'shua. Through Y'shua we can be merciful, slow to anger, faithful, steadfast in love and forgiving.
I am chosen, set apart and His beloved
We are His chosen ones, holy and beloved and are to clothe ourselves as follows:
Colossians 3:12–15
12 As Elohim's chosen ones, holy and beloved, clothe yourselves with compassion, kindness, humility, meekness, and patience. 13 Bear with one another and, if anyone has a complaint against another, forgive each other; just as YHVH has forgiven you, so you also must forgive. 14 Above all, clothe yourselves with love, which binds everything together in perfect harmony. 15 And let the peace of Messiah rule in your hearts, to which indeed you were called in the one body. And be thankful.
1 Thessalonians 1:4
4 For we know, brothers and sisters beloved by Elohim, that he has chosen you,
Hebrews 3:1–3
1 Therefore, brothers and sisters, holy partners in a heavenly calling, consider that Y'shua, the apostle and high priest of our confession, 2 was faithful to the one who appointed him, just as Moses also "was faithful in all Elohim's house." 3 Yet Y'shua is worthy of more glory than Moses, just as the builder of a house has more honor than the house itself.
I am reconciled to YHVH
Through Y'shua, I am reconciled to YHVH. The separation brought about by sin, is taken away.
2 Corinthians 5:18
18 Now all these things are from Elohim, who reconciled us to Himself through Messiah and gave us the ministry of reconciliation,
Being a new creature means we are to act differently, our fruit should attest to this newness of life. I am chosen and appointed by Messiah to bear His fruit.
John 15:16
16 "You did not choose Me but I chose you, and appointed you that you would go and bear fruit, and that your fruit would remain, so that whatever you ask of the Father in My name He may give to you.
The fruit we bear is the fruit of the Spirit and this fruit flows from our obedience.
Galatians 5:22–23
22 By contrast, the fruit of the Spirit is love, joy, peace, patience, kindness, generosity, faithfulness, 23 gentleness, and self-control. There is no law against such things.
Being a believer, makes me a saint.
I am a saint
1 Corinthians 1:2
2 To the assembly of Elohim which is at Corinth, to those who have been sanctified in Messiah Y'shua, saints by calling, with all who in every place call on the name of our Master Y'shua Messiah, their Master and ours:
I like the way it is translated in the Complete Jewish Bible.
1 Corinthians 1:2
2 To: Elohim's Messianic community in Corinth, consisting of those who have been set apart by Yeshua the Messiah and called to be Elohim's holy people—along with everyone everywhere who calls on the name of our Master Yeshua the Messiah, their Master as well as ours:
We have been called and set apart by Y'shua, and part of this calling is to become sanctified. The Greek-English lexicon of the New Testament supports this understanding as the word saint is defined as follows:
11.27 οἱ ἅγιοι (occurring in the plural as a substantive): persons who belong to God, and as such constitute a religious entity—'God's people.' κλητοῖς ἁγίοις 'to the ones called to be God's people' 1 Cor 1:2.
In rendering οἱ ἅγιοι it is important to avoid an expression which means 'sanctified,' for the focus is not upon a particular state of holiness, but upon a special relationship with God. Those who are spoken of as οἱ ἅγιοι may also be admonished to become sanctified.2
Being called a saint does not mean we are to do nothing, it refers to a special relationship with YHVH and we are, as saints, called upon to become sanctified. Sanctification is a process, and each of us should be focussed on becoming sanctified. Sanctification is the process of getting rid of everything that stands between us and YHVH, this will include sin (which is transgression of YHVH's instructions), bitterness, unforgiveness, the iniquity of the fathers and our own and this orphan thinking to name a few examples.
Believers are also referred to as saints in Eph 1:1, Phil 1:1 and Col 1:2. Y'shua also called us friends.
I am a friend of Y'shua
John 15:13–15
13 "Greater love has no one than this, that one lay down his life for his friends. 14 "You are My friends if you do what I command you. 15 "No longer do I call you slaves, for the slave does not know what his master is doing; but I have called you friends, for all things that I have heard from My Father I have made known to you.
Being a friend of Y'shua means we can trust Him and take anything to Him in prayer. All our weaknesses, all our cares, we can bring to Him. If we have been wronged, He will take vengeance if need be, so we don't have to. In ancient times, friends would do this for each other when they are in covenant with each other. We are in covenant with Y'shua and we are therefor to take everything to Him. It is liberating to be able to do this. We all hold on to grudges and bitterness of hurts people caused us. Let it go!
Romans 12:19–21
19 Never take your own revenge, beloved, but leave room for the wrath of Elohim, for it is written, "Vengeance is Mine, I will repay," says YHVH. 20 "But if your enemy is hungry, feed him, and if he is thirsty, give him a drink; for in so doing you will heap burning coals on his head." 21 Do not be overcome by evil, but overcome evil with good.
I am a temple, a dwelling place of YHVH
His Spirit and His life dwell in me.
1 Corinthians 3:16–17
16 Don't you know that you people are Elohim's temple and that Elohim's Spirit lives in you? 17 So if anyone destroys Elohim's temple, Elohim will destroy him. For Elohim's temple is holy, and you yourselves are that temple.
How do we destroy our temple? With sin.
1 Corinthians 6:19
19 Or don't you know that your body is a temple for the Ruach HaKodesh who lives inside you, whom you received from Elohim? The fact is, you don't belong to yourselves;
When we choose to believe in YHVH, we become a temple of YHVH, His Spirit lives in us. A perspective like this makes it easier for us to understand that we are not to defile this temple. We defile our temple when we with unclean meat, for example or with any other sin.
We are also called living stones, used to build a spiritual house.
1 Peter 2:5
5 you also, as living stones, are being built up as a spiritual house for a holy priesthood, to offer up spiritual sacrifices acceptable to Elohim through Y'shua Messiah.
I am a member of Messiah's Body
1 Corinthians 12:27–31
27 Now you are the body of Messiah and individually members of it. 28 And Elohim has appointed in the church first apostles, second prophets, third teachers; then deeds of power, then gifts of healing, forms of assistance, forms of leadership, various kinds of tongues. 29 Are all apostles? Are all prophets? Are all teachers? Do all work miracles? 30 Do all possess gifts of healing? Do all speak in tongues? Do all interpret? 31 But strive for the greater gifts. And I will show you a still more excellent way.
For this reason, we are not to isolate ourselves. We need each other to grow and fulfill our purpose as each of us have different gifts, strengths and weaknesses. We need to love and be loved and we need to support and be supported. If we isolate ourselves, we don't have this and don't grow. This is one of the problems in the Messianic community. People tend to isolate themselves due to differences in understanding, calendars or sometimes thinking themselves more righteous than others and don't want to mix with them. This is not YHVH's intend for us as we clearly see from this scripture.
I am part of the true vine
Y'shua is the vine and we are the branches.
John 15:5
5 I am the vine, you are the branches. Those who abide in me and I in them bear much fruit, because apart from me you can do nothing.
1 Corinthians 6:17
17 But anyone united to YHVH becomes one spirit with him.
We have seen in the passages quoted before, that YHVH gives us His Spirit to guide us and to lead us.
I am a citizen of heaven
Philippians 3:20
20 But our citizenship is in heaven, and it is from there that we are expecting a Savior, the Master Y'shua Messiah.
Y'shua prayed this:
John 17:14–16
14 I have given them your word, and the world has hated them because they do not belong to the world, just as I do not belong to the world. 15 I am not asking you to take them out of the world, but I ask you to protect them from the evil one.16 They do not belong to the world, just as I do not belong to the world.
The word translated as world is "cosmos" and refers to the world system. John 12 :31 states that Satan is the ruler of this world – "cosmos." So, when Y'shua states that we are not of this world, He means we are not part of satan's world system, but His Kingdom. We are also called strangers (sojourners) and aliens in a couple of passages.
1 Peter 2:11
11 Beloved, I urge you as aliens and strangers to abstain from fleshly lusts which wage war against the soul.
Even in Leviticus, YHVH refers to His people as aliens and sojourners.
Leviticus 25:23
23 'The land, moreover, shall not be sold permanently, for the land is Mine; for you are but aliens and sojourners with Me.
Being strangers and aliens pertain specifically to our stay on earth. We are also of YHVH's household, citizens of heaven.
Ephesians 2:19
19 So then you are no longer strangers and aliens, but you are fellow citizens with the saints, and are of Elohim's household,
Our stay on earth is a temporary one. We are to make the best of it, for it determines what happens to us afterwards.
1 Peter 1:17
17 If you address as Father the One who impartially judges according to each one's work, conduct yourselves in fear during the time of your stay on earth;
I am the light of the world
Matthew 5:14–16
14 "You are the light of the world. A city built on a hill cannot be hid. 15 No one after lighting a lamp puts it under the bushel basket, but on the lampstand, and it gives light to all in the house. 16 In the same way, let your light shine before others, so that they may see your good works and give glory to your Father in heaven.
This light we shine, is not our own light, but the light of Y'shua we reflect when we live according to His ways. It also confirms what we have said earlier, that we are not to isolate ourselves, when we do, we put the light under a basket.
John 8:12
12 Then Y'shua again spoke to them, saying, "I am the Light of the world; he who follows Me will not walk in the darkness, but will have the Light of life."
We can shine it because we are children of light.
1 Thessalonians 5:5
5 for you are all children of light and children of the day; we are not of the night or of darkness.
Proverbs 4:18–19
18 But the path of the righteous is like the light of dawn, That shines brighter and brighter until the full day. 19 The way of the wicked is like darkness; They do not know over what they stumble.
To be righteous is to be obedient to YHVH's commandments. This verse in proverbs equates the path of the righteous to a light. This should not prompt us to be obedient to gain acceptance from the Father. We have been saved by grace, through faith.
Ephesians 2:8–10
8 For by grace you have been saved through faith, and this is not your own doing; it is the gift of Elohim— 9 not the result of works, so that no one may boast. 10 For we are what he has made us, created in Messiah Y'shua for good works, which Elohim prepared beforehand to be our way of life.
I am the salt of the earth
Not only did Y'shua call us, His followers the light of the world, but also salt. Salt gives flavor and preserve. When we fall into sin or compromise, we become tasteless. To be set apart is to be salt.
Matthew 5:13
13 "You are the salt of the earth; but if the salt has become tasteless, how can it be made salty again? It is no longer good for anything, except to be thrown out and trampled under foot by men.
I am an enemy of Satan
When we became believers, we signed up for war. We will have difficulties while we live in the world. Test, trial and temptation is part of this warfare.
1 Peter 5:8–10
8 Be of sober spirit, be on the alert. Your adversary, the devil, prowls around like a roaring lion, seeking someone to devour. 9 But resist him, firm in your faith, knowing that the same experiences of suffering are being accomplished by your brethren who are in the world. 10 After you have suffered for a little while, the Elohim of all grace, who called you to His eternal glory in Messiah, will Himself perfect, confirm, strengthen and establish you.
We will be bombarded with temptations in the form of thoughts. These thoughts when entertained will lead to sin. We are to be sober and alert and resist him.
1 John 5:18–19
18 We know that no one who is born of Elohim sins; but He who was born of Elohim keeps him, and the evil one does not touch him. 19 We know that we are of Elohim, and that the whole world lies in the power of the evil one.
18–20 Three things we know. Everyone who has God as his Father does not go on sinning (see 3:6, 9N), … and the evil one does not touch him, but he can tempt him. The whole world lies in the power of the Evil One (see Lk 4:5–6). 3
We are, therefor, to submit to YHVH and resist satan and his temptations.
James 4:7–107
Submit therefore to Elohim. Resist the devil and he will flee from you. 8 Draw near to Elohim and He will draw near to you. Cleanse your hands, you sinners; and purify your hearts, you double-minded. 9 Be miserable and mourn and weep; let your laughter be turned into mourning and your joy to gloom. 10 Humble yourselves in the presence of YHVH, and He will exalt you.
Cleansing our hands and purifying our hearts is the sanctification process we mentioned earlier. This entails repentance, which is turning away from sin and renewing our minds.
YHVH has provided spiritual armor for us.
Ephesians 6:10–18
10 Finally, be strong in YHVH and in the strength of His might. 11 Put on the full armor of Elohim, so that you will be able to stand firm against the schemes of the devil. 12 For our struggle is not against flesh and blood, but against the rulers, against the powers, against the world forces of this darkness, against the spiritual forces of wickedness in the heavenly places. 13 Therefore, take up the full armor of Elohim, so that you will be able to resist in the evil day, and having done everything, to stand firm. 14 Stand firm therefore, having girded your loins with truth, and having put on the breastplate of righteousness, 15 and having shod your feet with the preparation of the gospel of peace; 16 in addition to all, taking up the shield of faith with which you will be able to extinguish all the flaming arrows of the evil one. 17 And take the helmet of salvation, and the sword of the Spirit, which is the word of Elohim. 18 With all prayer and petition pray at all times in the Spirit, and with this in view, be on the alert with all perseverance and petition for all the saints,
Every one of these pieces of armor is needed to ward off and overcome evil. Not only are we warriors in YHVH's army, we are also His bond servants.
I am a bond servant of YHVH
Romans 6:16
16 Do you not know that when you present yourselves to someone as slaves for obedience, you are slaves of the one whom you obey, either of sin resulting in death, or of obedience resulting in righteousness?
Both Paul and James called themselves bons servants of YHVH (Rom 1:1: Tit 1:1; Jam 1:1). A bond servant is a slave is allowed to go free, but voluntarily chooses to stay with his master.
Exodus 21:5–6
5 "But if the slave plainly says, 'I love my master, my wife and my children; I will not go out as a free man,' 6 then his master shall bring him to Elohim, then he shall bring him to the door or the doorpost. And his master shall pierce his ear with an awl; and he shall serve him permanently.
As believers of Y'shua, we have given ourselves to Him. We are not our own anymore, we have been bought with a price.
1 Corinthians 6:19–20
19 Or do you not know that your body is a temple of the Holy Spirit who is in you, whom you have from Elohim, and that you are not your own? 20 For you have been bought with a price: therefore glorify Elohim in your body.
Conclusion
I hope and pray that you would consider these words. Each of us is precious to YHVH, He has bought us with a price. We become new creatures in Y'shua, children of the Most High. A light and a living stone of His spiritual house. The salt of the earth and an enemy of satan. Part of the true vine, and a citizen of heaven. A member of Messiah's body and a tabernacle for His Set apart Spirit. I am chosen, set apart and His beloved friend, a reconciled saint. I am a true child of Elohim.
Make these scriptures your own, memorize it, for this is who you are in Messiah Y'shua.May YHVH bless you with His shalom and understanding.
1 Corinthians 15:10
10 But by the grace of Elohim I am what I am, and His grace toward me did not prove vain; but I labored even more than all of them, yet not I, but the grace of Elohim with me.
References
1. All quoted passages are from the New American Standard Bible: 1995 Update. LaHabra, CA: The Lockman Foundation, 1995. We have substituted YHVH for LORD and Y'shua for Jesus
2. Louw, J. P., & Nida, E. A. (1996). Greek-English lexicon of the New Testament: based on semantic domains (electronic ed. of the 2nd edition., Vol. 1, p. 124). New York: United Bible Societies.
3. Stern, D. H. (1996). Jewish New Testament Commentary : a companion volume to the Jewish New Testament (electronic ed., 1 Jn 5:18). Clarksville: Jewish New Testament Publications.
4. Neil T Andersen, Victory over Darkness, Regal books ISBN 978-0-8307-2564-9
Victory over Darkness